Workshops for Guilds and Groups

Current Rates




NEW!!

Anna's Garden
: Beginner Quilt with Cool Tools
Learn the basics of reading a pattern, fabric selection, rotary cutting and precision piecing using great tools and materials to make the project simpler and faster. In the class you will cut and piece 9-patch and snowball blocks, and assemble the first two rows. Fabric requirements include a Layer Cake (ten inch squares), and yardage for remaining blocks and borders. We will learn to use a rotating cutting mat, different size rulers, and Corner Clipper ruler.
Click here for supply list.
Full day class.
New!!

Star Steps
: Jelly Roll Stars
This project is all about organizing the template-cut stars into baggies, and chain piecing rows with no set-in seams!! Learn a simple strategy for cutting and sewing prep to simplify a complex-looking quilt into a project even a beginner can master. Full day class.
Click here for the supply list.
NEW!!

Ziggy Diamonds
- 60 Degrees of Easy Mix and Match Diamonds
Jelly Roll and Fat Quarter Friendly class. All the diamonds are made in 4-patch components which can be mixed around or moved around before you assemble the top. Fast and easy but looks like you spent days making it. Workshops focus on the 6 diamond wall hanging, but multi-day workshops can do the larger 12 or 16 diamond versions. It is easy to enlarge with more rows and decrease with fewer rows. This novel approach to assembly makes it fun to personalize with your own colors and fabrics, and there are NO SET IN SEAMS.
Click here for a supply list.
Jelly rolls which work well for this project are
Century Rainbow Double Scoop by Andover Fabrics
and
Tula Pink True Colors or Tiny Coordinates by Free Spirit.
Color Confidence for Quilters –One of my most popular workshops, this class builds both color knowledge and confidence. If you have ever admitted that "you aren't good with color," this is the workshop for you! A highly informative workshop, you will learn color theory from the quilter's perspective, how to use a color wheel to create quilt color schemes and how to translate your favorite colors into quilts that sizzle. Class color kit includes a box of 24 crayons, coloring pages, color theory card, large color wheel, fabric swatches, a value finder card, a color wheel fabric swatch pack, notebook, pen, and color scheme handouts all in a plastic portfolio case. Participants bring pictures from magazines and swatches of their favorite fabrics. Click here for the supply list.
Click here to purchase the color kit in advance.


Stained Glass Mini - This 22" mini quilt is made from 4 identical 8" blocks which can be rotated in lots of ways to create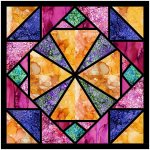 unique settings. Paper piecing creates the beautiful and accurate stained glass look. This is a great project for those wanting to learn to do paper piecing but not sure how. Experienced paper piecers will love the simple and elegant results. Complete instructions and pattern provided in the class. Kit includes pattern, paper foundations for four blocks, and the Add-A-Quarter Plus ruler. Project can also be made as a full size 48" square size.




The Big Apple -- Learn to piece those fabulous BIG apple core shapes using an easy pin-less technique. Using an 8" acrylic template, we will rotary cut these apple core shapes from a Layer Cake or set of 10" squares, and piece them without pins. If you thought you could not do curves this workshop will change your mind, while you create a great big apple core crib or lap quilt project. Reeze's "Count to 8 Four Patch" method will surprise you with its simplicity and accuracy. Click here for more information and a supply list.





Charm Pack Projects: Half Hex Topper or Triangle Topper. These are easy projects that only require 1 charm pack! They can be completed in a 4 hour class, but work best in a full day workshop where there is time for additional tips and tricks for using charm packs. Half Hex or Triangle acrylic template (Missouri Star Quilt Co.) are available as a kit in the class. Click HERE for more information.
Click HERE for supply list.
Tumbler One Patch Workshop. Make a fun and fast lap quilt or table runner from one 5" square charm pack using a rotary cut-able template. This is a great half day workshop and includes instruction in cutting and sewing tumbler blocks, as well as a variety of setting options. Perfect for a class with very few supplies required. Tumbler template rulers can be purchased for $8 at the class or purchased in advance by clicking HERE.

Kits can also be supplied upon request.



Advanced Tumbler Quilt Project using Accu-Quilt Dies.

Pattern options include Seaweed (left) or Wild Fire (right). A full day workshop in using a constrained color palate
to create a one-of-a-kind art quilt using one shape, the 4" or 3" tumbler, cut with Accu-quilt dies.
Cutter and dies will be provided in the class.
Students can work with a 2-hue palate (as in Wild Fire) or a 4-hue palate (as in Sea Weed).
Supply list for Wildfire workshop. Contact us for more information.






Winding Ways with the Accu-Quilt Die Cutter -- Learn to piece those fabulous curves using an easy pin-less technique. We will cut Accu-Quilt winding ways blocks and learn to piece these versatile curved shapes without pins. If you thought you could not do curves this workshop will change your mind, while you create a great table runner project. Click here for more information and supply list.
Easy Machine Applique: Easy machine applique techniques are covere
d in this workshop. We will create this beautiful Southwest Pottery Block using fusible web and machine applique. Learn about tracing and layering fabrics, different types of fusible web, and a variety of edge stitching techniques. Everything you need to make the small wall hanging is included in the kit. Kits available. Half day workshop.

Click here for the supply list.





Indian Blanket The 60 degree diamond is the perfect shapes to create a stunning one-patch quilt. It is easier to make than it appears. The diamonds are cut from "Jelly Roll" 2-1/2" strips using a custom made acrylic template and rotary cutter. There are no set-in (Y) seams, and it is assembled in rows. Precision cutting and piecing is the secret to making this project. This full day workshop focuses on completing one section of this quilt while learning all the techniques needed to complete the project. Click here for a pre-class color selection chart. Click here for a supply list.

The Seminole Band Tote Bag: A wonderfully simple tote bag with a Seminole Pieced Band. This workshop is a great opportunity to explore simple piecing, basic precision sewing technique, and lots of color and fabric creativity. Learn how to make a Seminole pieced band which can be used as a border or row in lots of other quilt applications. In a four hour workshop you will learn all the techniques to cut, sew and assemble the tote bag — large enough to carry a cutting mat and ruler to classes — with a Seminole pieced band around the top. Half day workshop. Click here for the supply list.




The Merry Go Round Quilt – or – Fun with the 60 Degree Ruler : My most requested workshop, this is a

great project workshop. Working with a Jelly Roll you will learn how to use the 60 degree triangle ruler to make fast and accurate hexagon shaped blocks that are easily pieced in rows. No triangles to make, no set-in seams. The finished quilt is crib or throw sized. Two jelly rolls will make a nice lap sized quilt and 3 Jelly Rolls will make a great twin bed sized quilt. This really is a fun and fast project. Once you try it you will want to make more using different layouts and different size strips. — Click here for the supply list
A $25 kit is required for this class which includes the book Sizzlin' Sixties by Anka's Treasures, Marti Michele's small 60 degree triangle ruler, a seam guide and ruler grips. Click here to buy the kit in advance.


Oh My Stars! Another 60 degree triangle quilt. Using the same set of triangles in the Merry Go Round Quilt, we change the way they are arranged and add some background fabric to make this super easy but elegant throw. Yes, all it takes is 1 Jelly Roll and background yardage. In this full day workshop you will have the stars made and the background diamonds cut and ready to assemble the quilt. The workshop covers all the skills you need to cut and arrange the blocks, color and setting tips and tricks, and easy assembly instructions to put the quilt together in rows, with no set-in seams.
A $25 kit is required for this class which includes the book Sizzlin' Sixties by Anka's Treasures, Marti Michele's small 60 degree triangle ruler, a seam guide and ruler grips. A complete supply list is available on request.
Seminole Pieced Sampler:

Explore 7 basic Seminole piecing designs that will result in a stunning small wall quilt. In this workshop we will make 3-4 complete bands, and learn the techniques for making all of the remaining bands. Class includes loads of tips and tricks on fabric selection, appropriate machine needles and thread for piecing small seams, accurate cutting, sewing, and strip-piecing techniques. Click here for more information. Full day workshop.

Diamond Star Workshop: Making 60 Degree Diamond Stars with NO Set in Seams — make a small quilt using precuts and the
versatile Morning Glory Designs 60 Degree Diamond template. You will learn cutting and piecing techniques that make quilt assembly quick and easy. This is a fun workshop where you will learn some great new techniques for working with charm packs and jelly rolls, coping borders, and tricks for creating "magic" bow tie blocks. Wall or crib size quilt, with instructions for larger sizes in the pattern. Whole day workshop. Kits available in 30's reproduction fabrics. Click HERE for supply list.
Additional Classes available for Guilds, Shops and Small Groups:
Charm Pack Six Pack: six simple projects using charm packs and a template, ruler, or new technique/skill. You choose the project and we will make it happen in a half day or full day fun filled workshop. Click on class title for a description.
EQ8 – Beginner, Intermediate, and Advanced Classes — [laptop with EQ8 loaded and activated is required]


EQ8 Drawing and Applique Workshop

EQ8 for Designers Workshop

EQ8 Drawing: Optical Illusion Quilts

One on one EQ8 tutoring.

Spring or Fall Table runner: Use beautiful seasonal prints to learn the ancient technique of Broderie Perse applique

Just Can't Cut It: Beautifully simple quilt using large scale prints or toilles and a scalloped edge.